Kultūra
Kokle mūsdienu skanējumā
26.08.2016
Sestdien, 3. septembrī plkst. 17:00 Daugavpils Marka Rotko mākslas centra kamerzālē ansambļa "Trio Tendo" latviešu laikmetīgās kamermūzikas koncerts "Tagadne".

Ansambļa Trio Tendo jaunā latviešu laikmetīgās kamermūzikas koncertprogramma "Tagadne" pirmo reizi izskanēja šī gada aprīlī Latvijas Nacionālajā bibliotēkā, Rīgā. Koncerta programma ietver trīs ansamblim veltītus jaundarbus: Oskara Herliņa "Petrichor", Vinetas Līces "Dažādas vasaras" un Jevgēnijas Fedorenko "Fantāzija par divām Baha tēmām". Koncertā, Daugavpils Marka Rotko mākslas centrā notiks Annas Veismanes skaņdarba "Maldugunis" pirmatskaņojums. Tāpat koncertā izskanēs arī citi trio repertuārā esošie skaņdarbi.

Mākslinieces koncertā rosinās atklāt un ieklausīties viņu mūzikas instrumentos no jauna – sadzirdēt to vitalitāti, svaigumu un unikalitāti gan individualitātē, gan ansambļa vienībā. Kā raksta pašas mākslinieces: "Tas būs muzikāls stāsts par to, kādas esam mēs, kādi top skaņdarbi un kā mēs skanam tieši TAGAD".
Trio Tendo ansambli 2014. gada rudenī izveidoja trīs Jāzepa Vītola Latvijas Mūzikas akadēmijas absolventes Sanita Sprūža, Madara Behmane un Ruta Birzule. Ansamblis ir unikāls sava skanējuma dēļ, kura sastāva ir kokle, flauta un klavieres. Kopā iestudētas jau trīs koncertprogrammas. Šajās koncertprogrammās liela nozīme ir tieši koklei.

Tā ir iespēja klausītājiem dzirdēt to jaunās skaņās, neparastās un retāk dzirdētās saspēlēs akadēmiskās mūzikas žanrā. Kā viens no Trio Tendo mērķiem ir iepazīstināt klausītājus ar laikmetīgo latviešu kamermūziku, kā arī rosināt latviešu komponistu jaunradi.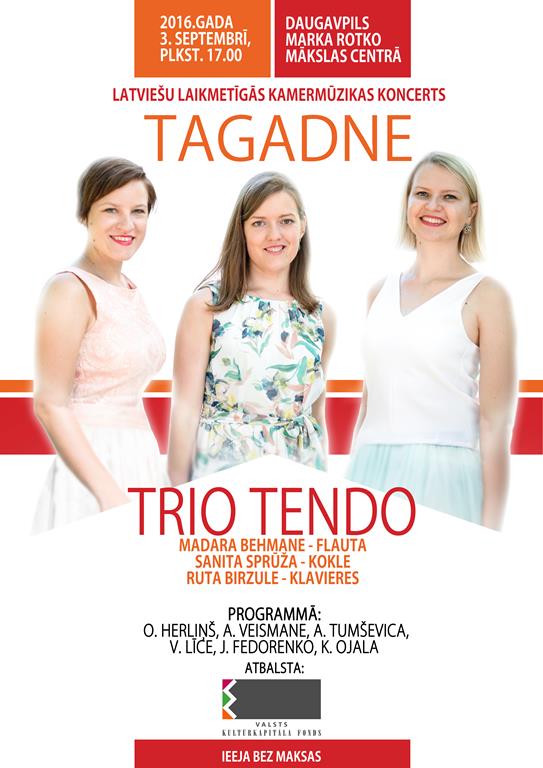 Daugavpilszinas.lv


Atgriezties atpakaļ
Pagājuši 5 gadi kopš latus mūsu makos un bankas kontos ir nomainījuši eiro.
Apspriest
Pēc kādiem kritērijiem Jūs izvēlaties produktus?